Vacuum casting (polyurethane casting) is a very popular process for manufacturing production-grade quality end-use rigid plastic, rubber and silicone parts in small batches.


Get Vacuum Casting Quotion
STEP | STP | SLDPRT | IGS | X_T | PDF files
Vacuum Casting (Urethane casting or Polyurethane casting)
Vacuum casting is a manufacturing process similar to injection molding in which polyurethane resin is cast in a cavity between two silicone mold halves. Polyurethane Casting manufactures end-use rigid plastic, rubber and silicone parts with production-grade quality.
Note:Vacuum casting is also called Urethane casting or Polyurethane casting in the United States or Europe. This article will use these terms interchangeably.
Polyurethane casting is the process of duplicating a master model by casting a silicone mold around it. In a highly skilled procedure, the mold is cut in half, and after the master model is removed, the gating and venting systems are added. The rapid fabricator then poured a polyurethane-based resin into the resulting cavity and cured it under vacuum to prevent the intrusion of air bubbles. The result is a highly accurate replica of the original object. The urethane casting process is carried out under vacuum, so it can produce high-quality bubble-free plastic parts with a smooth surface texture and no blemishes.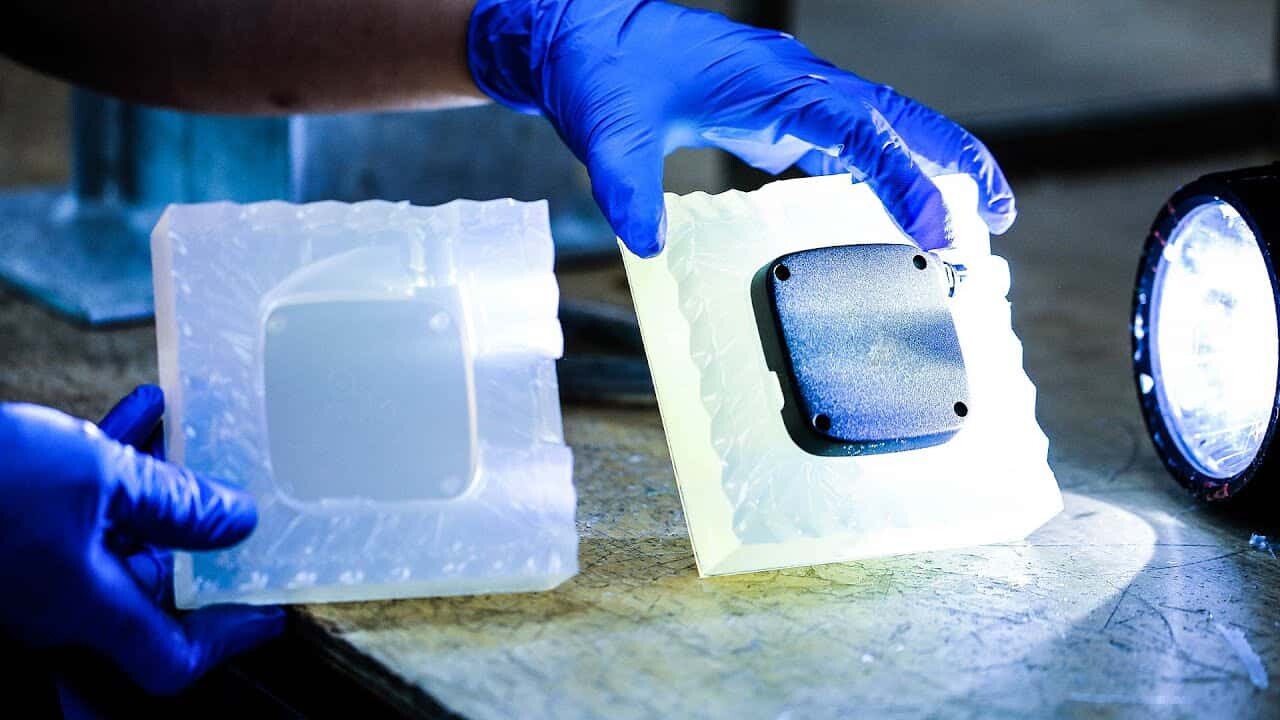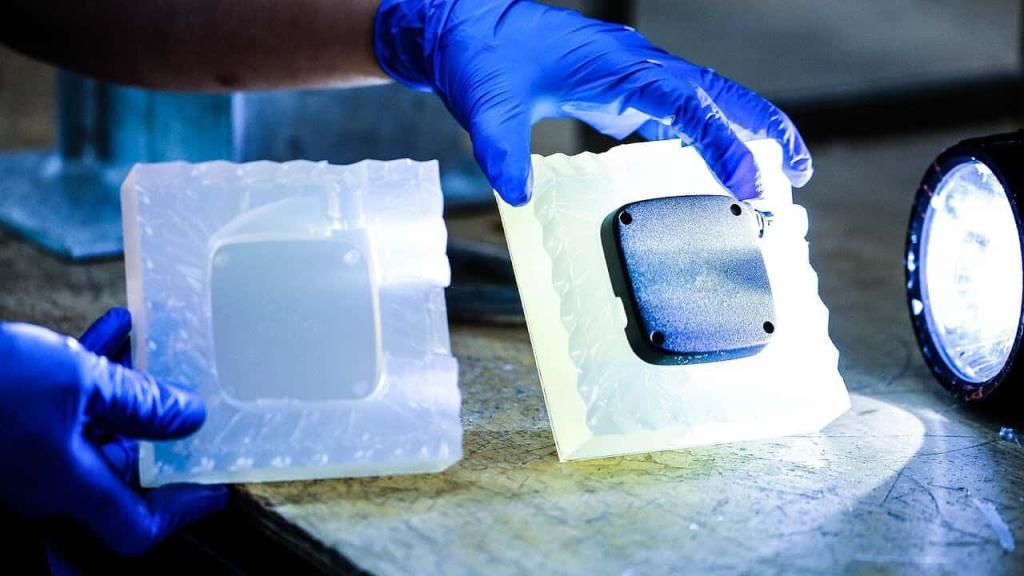 Workflow of Vacuum Casting
The production of polyurethane vacuum castings is generally divided into three steps: making master molds, making molds and casting parts.
Step 1. Make the master mold
The master mold is the physical representation of the CAD design and is typically CNC machined or printed in 3D plastic such as SLA/SLS. The quality of cast polyurethane parts depends on the quality of the master model, and CNC machining is recommended when you need plastic parts that require tight tolerances, high gloss or even optical clarity.
In practice, for those parts with complex shapes and structures, we will also consider using SLA to make the master mold.
AN-Prototype can apply texture or satin effect to the surface of the part to simulate the final mold texture of the product. The silicone mold will replicate the details and texture of the original master, so the cast polyurethane part will be a replica of the master.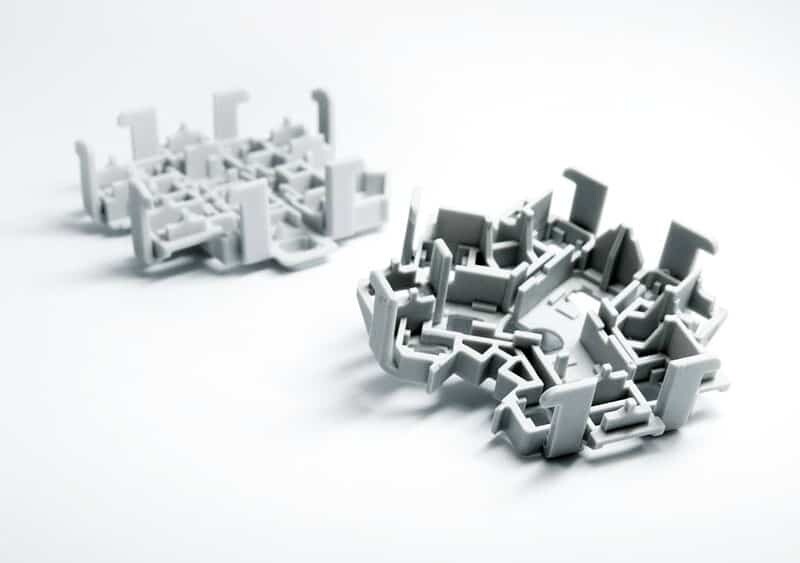 It is worth noting that the model needs to be able to withstand heating at 40°C.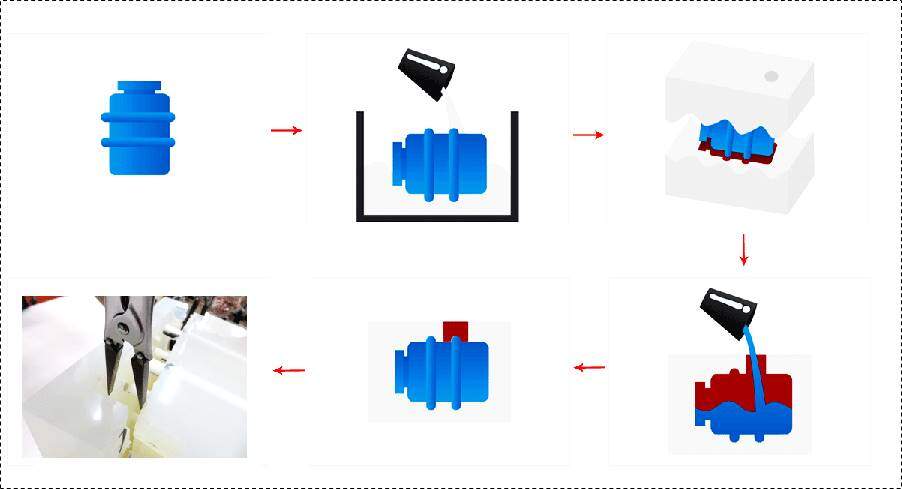 Step 2. Silicone mold making​
Casting molds are made of liquid silicone, also known as RTV molds. Silicone rubber has excellent chemical stability, self-release performance and flexibility, and has a very small shrinkage rate, which can accurately transfer the texture and pattern of the master mold to the casting mold. The steps of manufacturing casting mold are as follows:
Step 3. Vacuum Casting Process
AN-Prototype operates under a standardized process to ensure accurate parts and consistent mechanical properties. Rigorously trained vacuum casting machinists control all operations including: mixing, degassing, stirring, preheating, casting and demolding to create highly accurate replicas of the originals. The manufacturing process of vacuum castings is as follows:
Vacuum Casting Tolerances
The tolerances of vacuum cast parts depend on the precision of the master pattern, the geometry and the type of casting material used. In general, expect a shrinkage rate of 0.15%.
Trusted Rapid Manufacturing Company
Why Choose Vacuum Casting Service
As a leading vacuum casting manufacturer in China, AN-Prototype provides low-cost manufacturing of high-quality plastic parts. Urethane casting avoids the need for costly up-front investment, providing a complete solution for creating high-quality prototypes and low-volume production parts.
Polyurethane Vacuum Casting Services
Trustworthy Polyurethane Vacuum Casting Service Rrovider
Vacuum Casting
Learn More How It Work
AN-Prototype offers a variety of polyurethane materials to suit your application, including Hei-Cast from Japan and Axson from France. Materials with certain properties are similar to engineering production plastics, such as ABS, PMMA, PC, PP, PA, etc. Parts come in a variety of colors, from transparent, translucent to colorful, and from soft rubber to hard plastic. Various materials include impact resistant, high temperature (120°C) or flame resistant (UL94-V0), glass filled resins and silicones of varying hardness.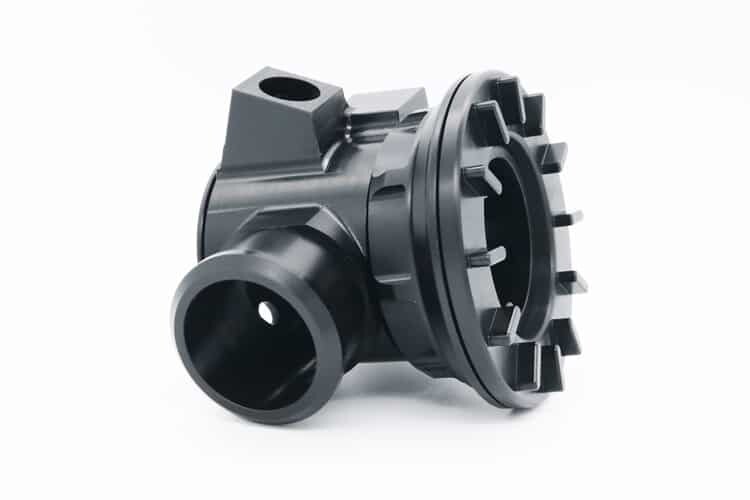 ABS-Like
ABS-Like is a thermoplastic, a versatile polyurethane plastic resin that is hard, rigid and impact-resistant, making it an ideal material choice for the manufacture of various parts.
Price: $$ (relatively inexpensive).
Color: Fits All Colors; Exact Pantone Matching Available
Hardness: Shore D 78-82
Typical Application: Enclosures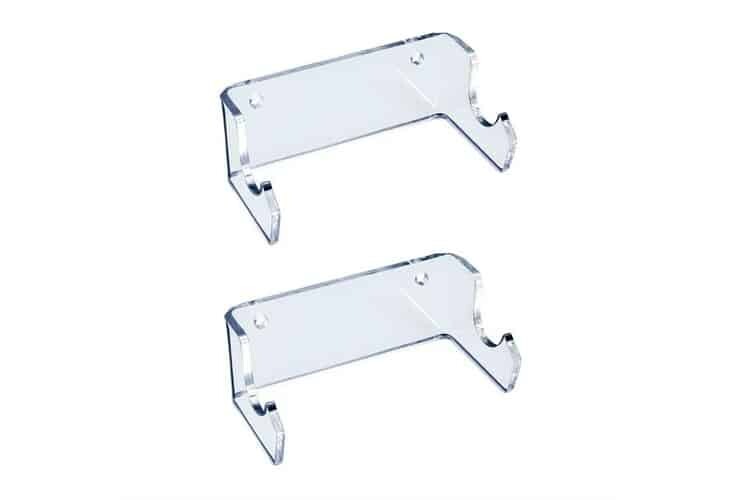 Acrylic-Like
Acrylic-Like hard, clear polyurethane resin, is an alternative to acrylic. It is hard, has medium to high strength and good transparency, suitable for transparent parts.
Price: $$
Color: transparent
Hardness: Shore D 87
Application: transparent components and parts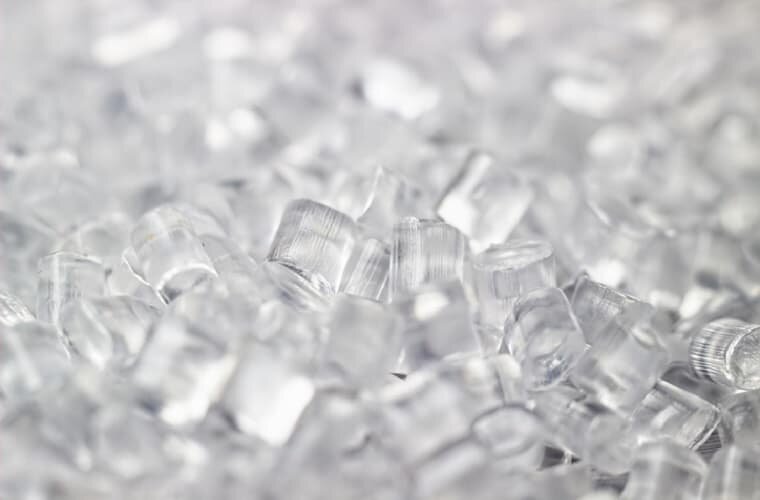 Polypropylene-Like
Polypropylene-Like is a tough, ductile and abrasion-resistant polyurethane material with low cost and polypropylene-like ductility.
Price: $$
Color: Black or Natural only
Hardness: Shore D 65-75
Application: Medical Housing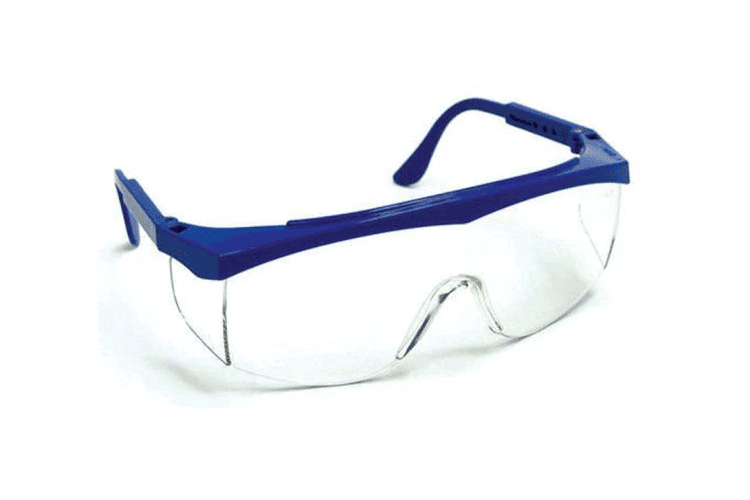 Polycarbonate-Like
Polycarbonate-Like is a rigid, high-impact, transparent material that is versatile and relatively easy to machine and finish, and is an alternative to polycarbonate.
Price: $$
Color: transparent and various colors
Hardness: Shore D 82-86
Application: sun visor、goggles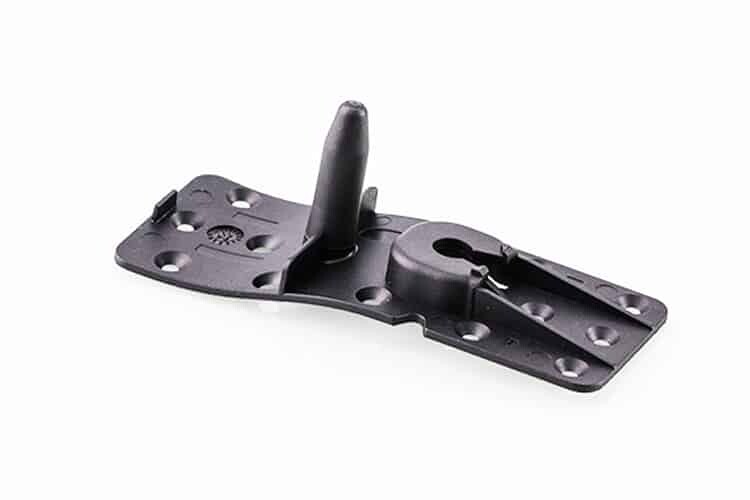 PA-like
PX223 is a PA-like material used in silicone molds to produce highly durable and versatile parts that perform similarly to nylon parts.
Price: $$
Color: black, tan
Hardness: Shore D 80-85
Application: Shell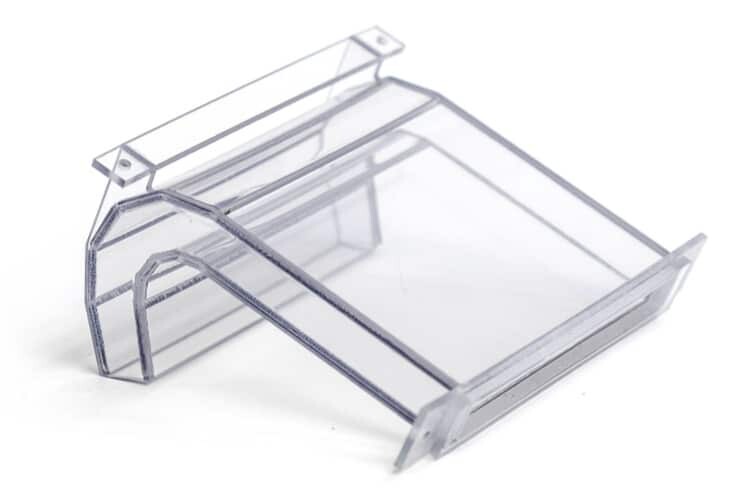 PC-like
PX520 realizes prototype parts and models with mechanical properties similar to real PC material by casting in silicone molds.
Price: $$$
Color: white, transparent
Hardness: Shore D 80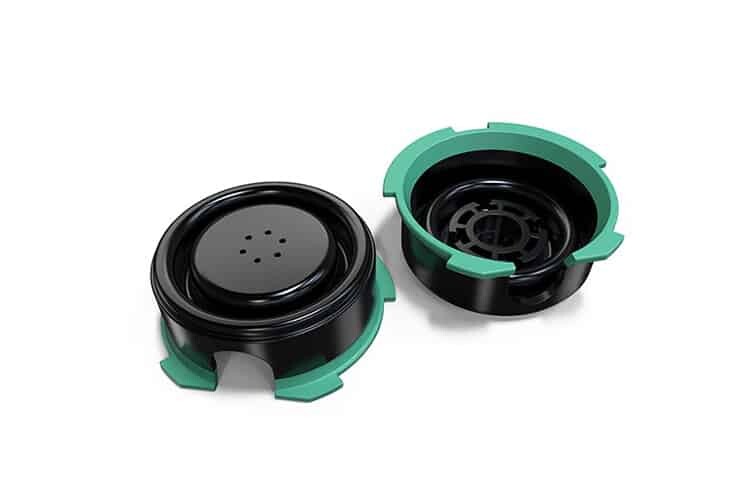 PP-Like
UP 5690 has similar mechanical properties to genuine PP and HDPE materials. It is easy to process, has high impact resistance and good flexibility.
Price: $$$
Colors: White, Black
Hardness: Shore D 80
Application: bumper, equipment box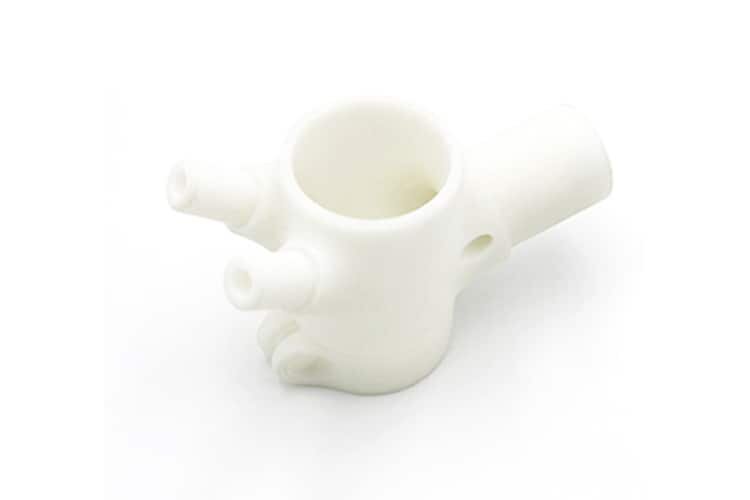 Glass-Filled Nylon-Like
Glass-Filled Nylon-Like is a stiff, USP Class VI, high-performance urethane with high impact strength and a HDT of 190°F (88°C).
Price: $$$
Colors: White
Hardness: Shore D 85
Application: Hard Case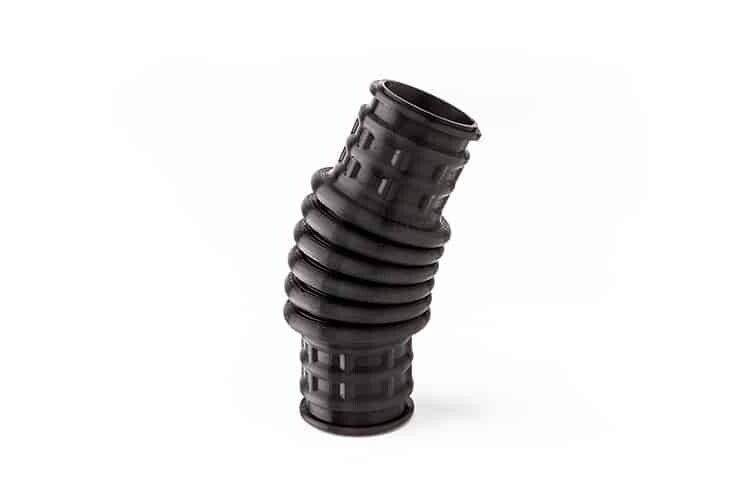 Elastomer
Polyurethane plastic resin, simulating TPU, TPE, silicone rubber and other rubber materials.
Price: $$
Colors: All colors and exact Pantone color matching
Hardness: Shore A 20 to 90
Applications: Wearables, Overmolding, Gaskets
Silicone is not only a good material for casting tools, but it is also an excellent component material. Silicone is durable, resilient, tear-resistant, inert, easy to clean, and resistant to high temperatures. Silicone rubbers are available in ultra-soft durometers as low as Shore A 10 and as medium-hard rubbers in the Shore A 60 range. Silicone castings are ideal for medical devices, surgical models, soft touch enclosures, and more.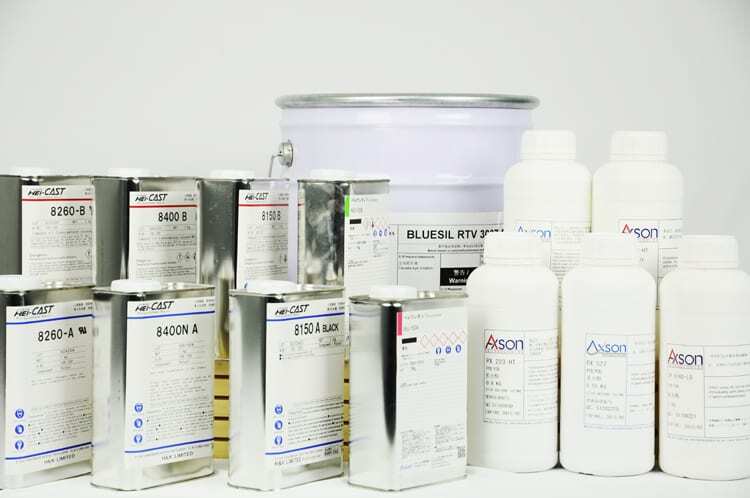 Technical Guide for Vacuum Casting
The standard tolerance is ±0.15mm/100mm, and the highest precision can reach ±0.05mm.
Maximum Vacuum Casting Part
The vacuum equipment can accommodate mold specifications up to 2.0M*1.2M*1.0M.
Minimum Wall Thickness Part
The minimum wall thickness is 0.5mm, and the best setting is 1.5mm to 2.5mm to ensure the tolerance of the parts.
Lifespan of Silicone Mold
Typical quantity is 20-25 servings per mold. If the plastic part requires high quality, such as a complex structure, generally only 10 or even 15 copies can be produced in one mold.
Depending on the complexity of the mold and the number of parts required, typically up to 50 plastic parts can be made in 7 to 10 days.
Surface Textures and Other Options
Vacuum molding is similar to injection molding, and the surface of the part can be colored, textured, painted, coated, clear polished, embedded and overmolded.
Vacuum Casting Application
Vacuum casting is a method used to manufacture low-volume products that require near-production-grade quality. The process of polyurethane casting creates highly detailed plastic parts that are virtually indistinguishable from the final product. Cast urethane parts are ideal when runs of 1 to 100 plastic parts are required in color, finish quality and toughness.
Urethane casting is also a perfect alternative to insert molding or overmolding for small batches, with a variety of material options. Urethane or silicone castings can bridge the production gap between 3D printed rapid prototyping and injection molding, balancing quality, cost and time. Polyurethane cast parts can be clear, colored, inserts. Since about 20-50 replicas can be produced from one master pattern, vacuum casting also allows developers to launch a first series of products for early market testing.
Custom medical devices: prosthetics, orthotics, hearing aids.
Automotive parts: dashboards, knobs, gauges, signs, hood ornaments, lighting lenses, intake manifolds.
Consumer electronics: enclosures, controllers, user interface panels, sensor integration.
Critical components and spare parts for robotics and industrial machinery.
Consumer Goods: Limited Edition Sunglasses, Pens, Phone Cases.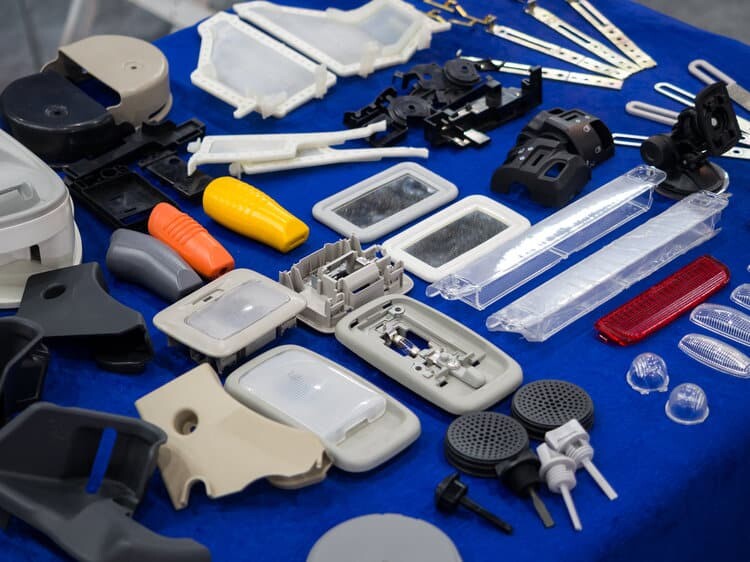 "My experience working with AN-Prototype has been nothing but great. Their communication is exceptional, and Michin was always available to answer any questions I had. The finished products we receive are of the highest quality, and meet expectations. What really stands is the great service I always receive from Michin. He's always committed to ensuring we were satisfied. Overall, I would highly recommend AN-Prototype and Michin for anyone looking for a reliable and supplier.."
"Even for a complex 5 axis CNC machined part we got very good results from AN-Prototype. We did a lot of projects with AN-Prototype during the last 2 years and they always did an outstanding job – high quality (I can also recommend their rapid tooling service and anodizing), reliable, extremely fast and perfect communication. I highly appreciate working with Davide and Vivian and already recommended them to many of our partners.."
"Happy with communication that give me confidence to choose AN-Prototype. Project manager understood what I needed and offered solutions to solve my problem. The project manager is very positive for me to help overcome some frustrations I had. Delivered the prototype products as promised. Very grateful for the personalized service, and, I am already a returning customer. "