At AN-Prototype, our EDM process is the perfect solution for the metal complex components you need to manufacture. This process allows us to cut with high precision and is suitable for any conductive material.
AN-Prototype Factory
Our Powerful Facilities
Sinker EDM Machining is Our Specialty
In the field of manufacturing, there is a lot of knowledge about parts processing that needs to be familiarized with. If you are looking for rapid manufacturing services, or if you are manufacturing complex structural parts and molds, then this requires understanding the basics of sinker EDM, or electrical discharge machining. AN-Prototype is always ready to serve you based on years of knowledge and experience in sinker EDM.
What is sinker electrical discharge machining?
Sinker EDM is an effective solution for machining conductive materials to manufacture custom parts with high complexity and complex structure. It is a subtractive manufacturing process. When sedimentation EDM works, it requires electrodes that are shaped to match the features of the desired part. These electrodes are usually made of graphite or copper. The electrodes and raw materials are then submerged in a dielectric fluid, and when the electrodes get close to the raw materials, sparks are generated, resulting in localized high temperatures that melt the materials. The electrode will move up and down along the z-axis to facilitate the washing of metal particles.
What is special about EDM is that it does not require physical contact between the tool and the workpiece to make the cut. During sinking EDM, the electrode tool is slowly lowered (sinked) onto the workpiece, eroding the workpiece material and creating a cavity that matches the shape of the tool, thereby maintaining a consistent spark gap as it descends. Hundreds of thousands of sparks are generated every second. The most common dielectric fluid for EDM is hydrocarbon oil, but other fluids can also be used.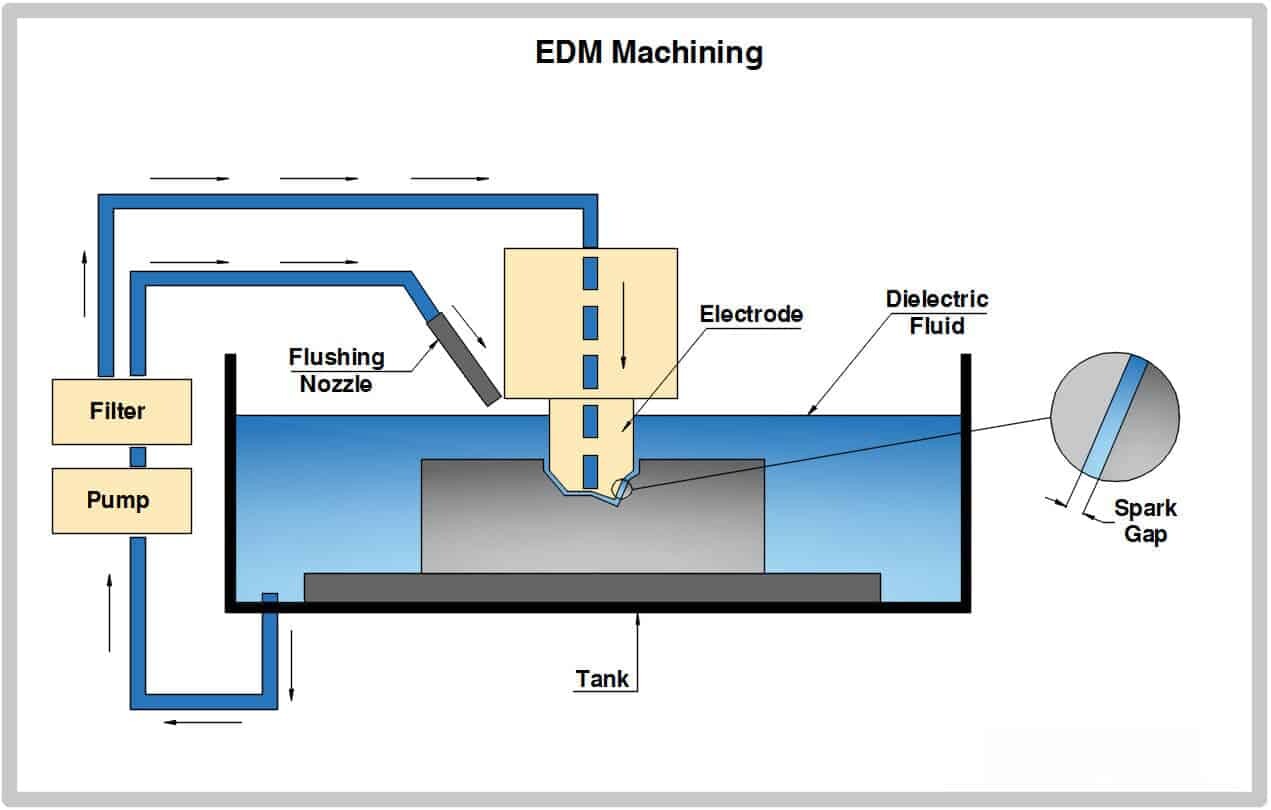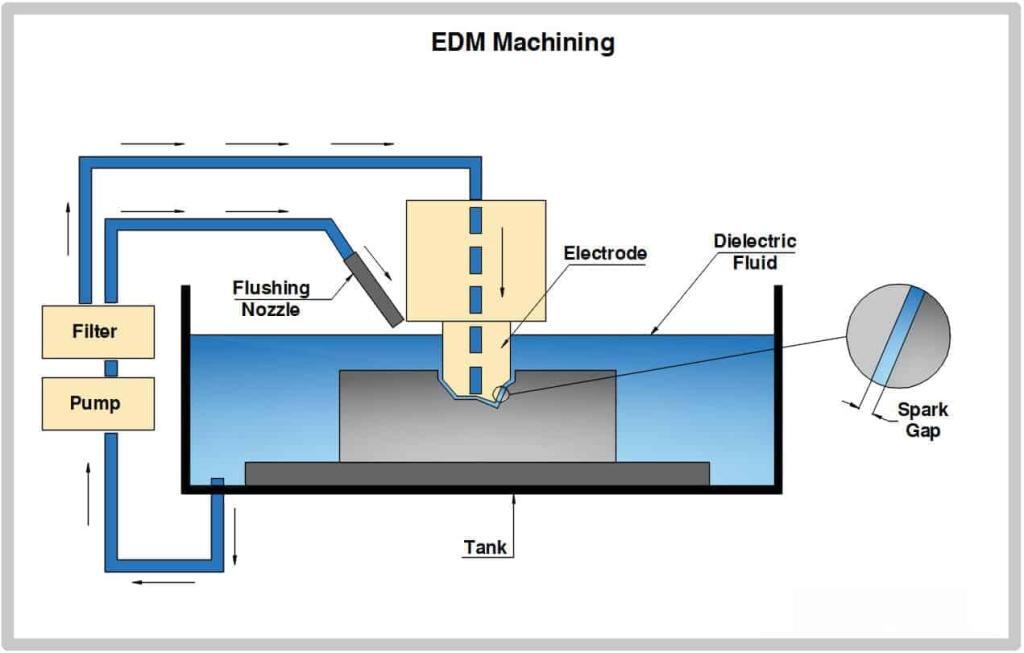 A typical sinker EDM machine is shown in the figure:
EDM has both advantages and disadvantages: the electrical discharge can penetrate even very hard metals without noticeable part deformation, but the types of cuts possible are more limited, and the process is difficult to set up. Due to the nature of the process, EDM can only be used on conductive materials, such as metals, conductive ceramics, etc., and can even cut very hard metals (hardened steel, tungsten, titanium, etc.) without destructive vibrations like ordinary machine tools and flutter. The machining results guarantee high precision and very tight tolerances.
Application of Sinker Electric Discharge Machining
Sinker EDM is used to create complex cavities and is therefore particularly useful in the manufacture of molds, dies and other forms of tooling, especially from hard materials such as tool steels. It is also better than other machining processes for creating sharp interior corners. Common sinker EDM applications include: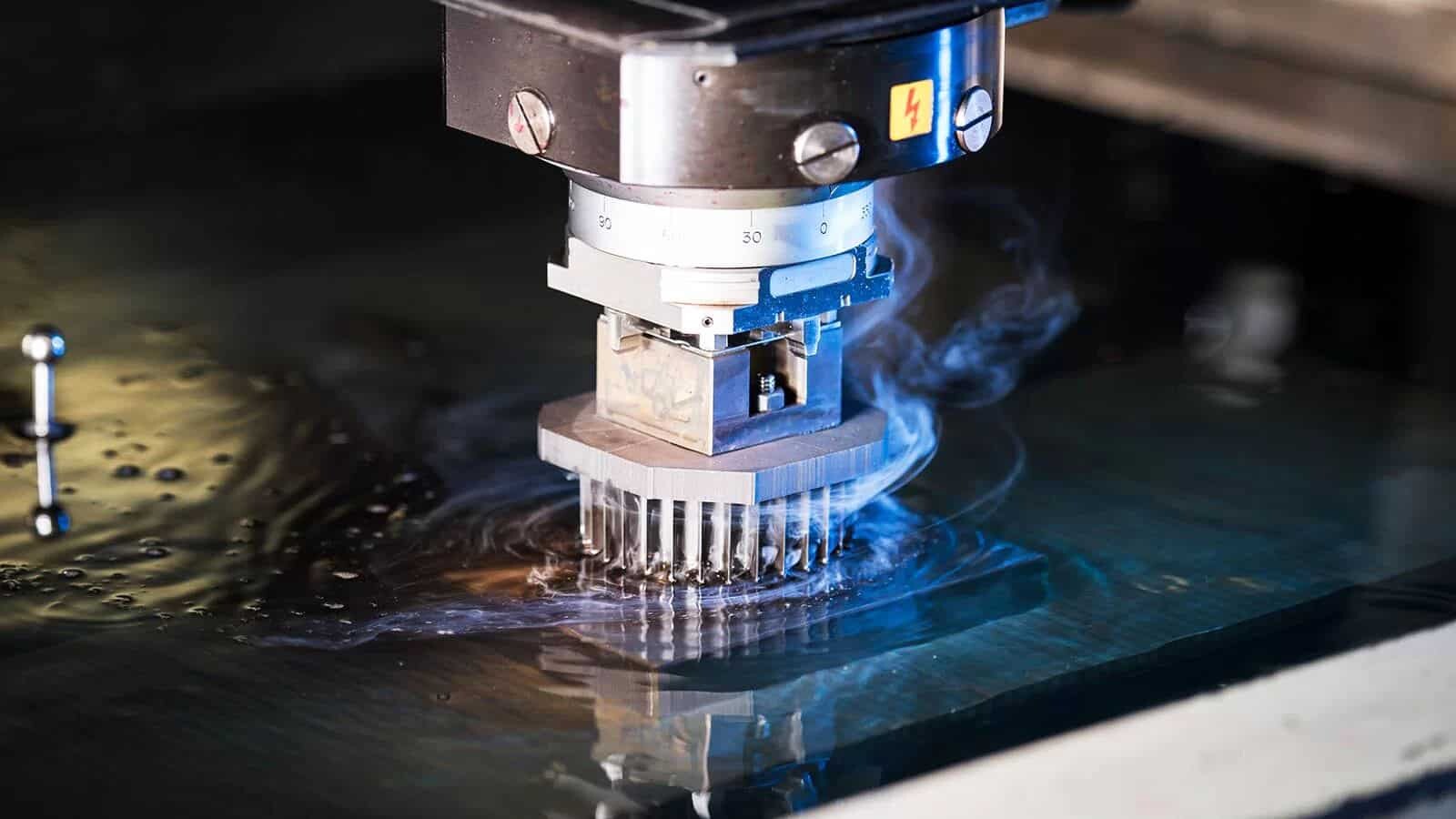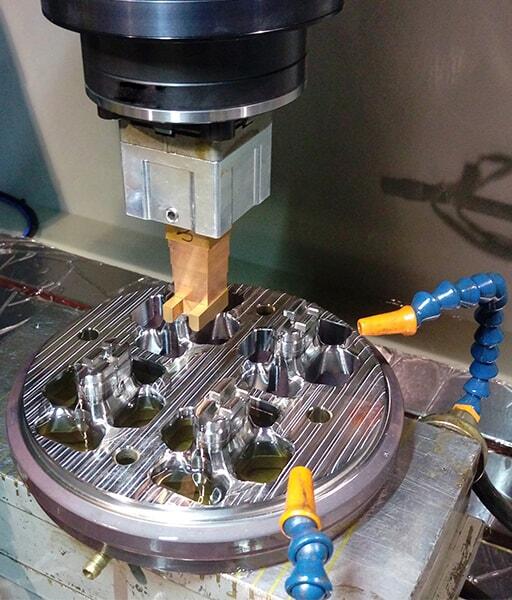 Why Choose Sinker EDM Services
Strong ability to machining complex materials
The cutting freedom of EDM is less restricted than that of traditional CNC machining. CNC machining a variety of complex pockets, fine deep holes, thin walls and other irregularly shaped geometries that are nearly impossible to achieve with end mills and drills.
EDM-machined parts can achieve the highest tolerances. This is possible because EDM processing does not stress the work and does not generate severe vibrations.Aside from this, a skimming process may also be done to increase its precision and accuracy.
Parts made by EDM are burr-free because the eroded metal is nearly broken down into particles during machining, which are then washed away. Most importantly, EDM does not involve sharp cutting tools such as end mills, saws and drills, which is why the process does not create any burrs on the workpiece.
Mass Machining Hard Metal Parts
EDM machining can cut hard metals with minimal effort, as long as they are electrically conductive. The hardness of the material being cut does not affect the overall process. These processes are highly repeatable and suitable for low to high volume production of consistent quality hard metal parts.
AN-Prototype Invests In Advanced EDM Machines
Since 2005, AN-Prototype has spent hundreds of thousands of dollars to update advanced EDM machines, and the number currently reserved is 5. Let us know them separately.
GF+ Cut P350: P20 has excellent tool life management which ensures a longer electrode life, making the machine more cost-effective to use. The machine can also produce highly polished finishes with a surface roughness of 0.002mm, eliminating the need for secondary polishing by the machine.
GF+ Form P20: The EDAF has a smaller profile due to the dielectric tank located below the machine. It is also equipped with an automatic tool changer. The sinker EDM machine is billed as a high-precision machine with advanced AI-optimized features that can reduce machining time by up to 30%.
Sodick AD 30LS: In 2021, AN-Prototype has invested in one of the newest members of the EDM machine, the Sodick AD30L will further help us increase our sinker electric discharge machining (EDM) production capacity. It's fast, accurate and reliable. It will be used to support our CNC department team and rapid tooling services.
Trusted Rapid Manufacturing Company
Why Choose AN-Prototype For Skiner EDM Services
AN-Prototype has been providing high quality deposition EDM services since 2005. We produce copper or brass electrodes in-house, which gives us full control over the manufacturing process. We have 5 CNC sinker EDM machines that can be equipped with an automatic tool changer to fully automate the process. Automation helps ensure consistency in every component, making the process more efficient and faster than manual intervention.
"My experience working with AN-Prototype has been nothing but great. Their communication is exceptional, and Michin was always available to answer any questions I had. The finished products we receive are of the highest quality, and meet expectations. What really stands is the great service I always receive from Michin. He's always committed to ensuring we were satisfied. Overall, I would highly recommend AN-Prototype and Michin for anyone looking for a reliable and supplier.."
"Even for a complex 5 axis CNC machined part we got very good results from AN-Prototype. We did a lot of projects with AN-Prototype during the last 2 years and they always did an outstanding job – high quality (I can also recommend their CNC machining service and anodizing), reliable, extremely fast and perfect communication. I highly appreciate working with Davide and Vivian and already recommended them to many of our partners.."
"Happy with communication that give me confidence to choose AN-Prototype. Project manager understood what I needed and offered solutions to solve my problem. The project manager is very positive for me to help overcome some frustrations I had. Delivered the prototype products as promised. Very grateful for the personalized service, and, I am already a returning customer. "