Insert molding is likely to be a relatively difficult process. That's why with AN-Prototype. Working with such an experienced manufacturing partner is the most reliable solution. AN-Prototype ensures that plastic components meet material, performance and critical tolerance requirements without increasing production time or cost.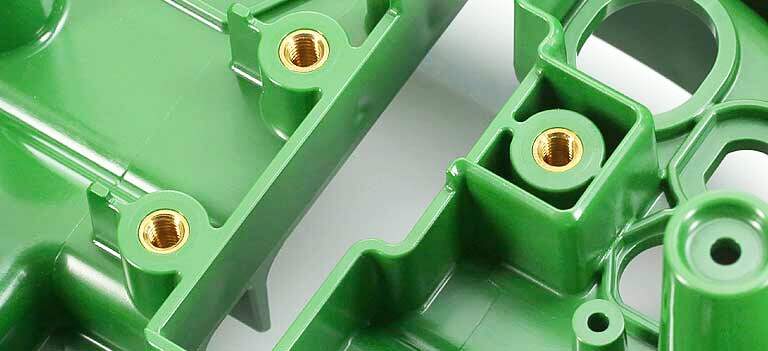 Upload 3D CAD File Get New Injection Molding Quote
STEP | STP | SLDPRT | IGS | X_T | PDF files
Trusted Insert Molding Manufacturer
AN-Prototype provides insert molding services from small batch manufacturing to high-volume injection molding production requirements. Insert molding not only offers an injection molding option for more precise and clean parts, but it is also more cost-effective because there is no need for a second operation through post-assembly or heat fusion. Among all the injection molding projects we have been involved in, we have participated in many insert molding projects and gained a wealth of experience from them. With our expertise and extensive experience, help bring your Insert Molding project to market successfully.
Insert molding is defined as a subset of injection molding techniques that involves inserting a metal part into the cavity of a mold prior to the actual injection molding. This insertion can be done manually or through an automated process using a robotic arm. After the insert is complete, the mold is closed and plastic is molded over the insert, turning the different parts into a single part.
Insert molding does not follow a certain standardized approach; there are many ways people can approach the process and make it best for their needs. You can use it for simple designs such as electrical insulation, or for more complex designs used in advanced manufacturing processes such as the automotive and aerospace industries.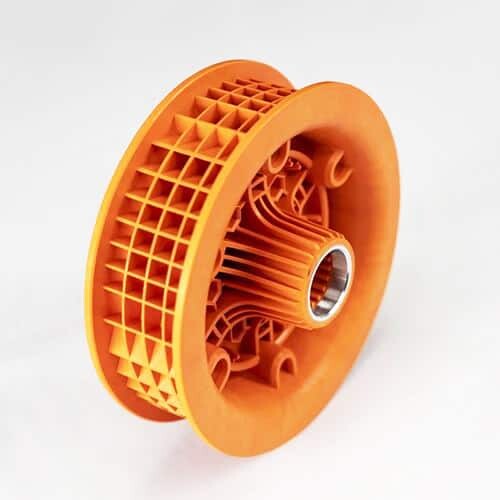 Why Choose Insert Molding?
One of the most common applications of Insert Molding is to create fastener connection features for plastic parts. Fasteners allow plastic components to be assembled and disassembled safely without damaging the product. Heat-set threaded inserts are molded from plastic to reduce the risk of thread damage during installation. The reason insert molding is such a convenient choice is that it eliminates the need to use extra parts to connect other parts when you need to form a single component. This is a cheaper and more secure fixation method. Forming production this way also reduces labor and energy costs because you can efficiently handle a job that may require many people to produce many items using a lot of electrical energy in the process. In a way, it's a cost-effective technology that not only gets the job done twice as fast, but also cuts the cost of the entire production line in half.
Reduce Assembly Costs – We know injection molding machines can make thousands of parts per day. This economy of scale can significantly reduce the cost of individual parts. Any required assembly can be a major time and cost factor compared to other processes such as CNC machining, sheet metal or additively manufactured parts. Insert molding can be used to reduce assembly steps, thereby maximizing cost savings.
Enhancing Plastic Part Performance – We know that plastic parts are not as strong as metal parts. However, plastics also offer other advantages, such as reduced cost, superior design flexibility and lower weight. Combining metal and plastic materials into one part takes advantage of the best of both worlds. Metal inserts can be used where strength and stiffness are required, while the rest of the part can be made of plastic to save weight. Also, plastic parts don't resist wear and tear very well, while metal inserts add durability to the part.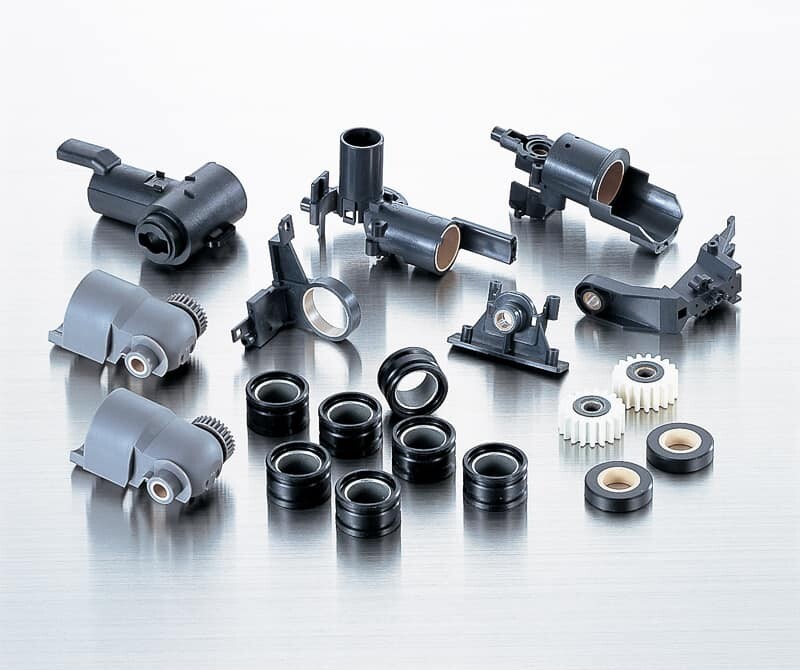 The insert molding process appears to be divided into four distinct stages, which are basically the same as the injection molding process.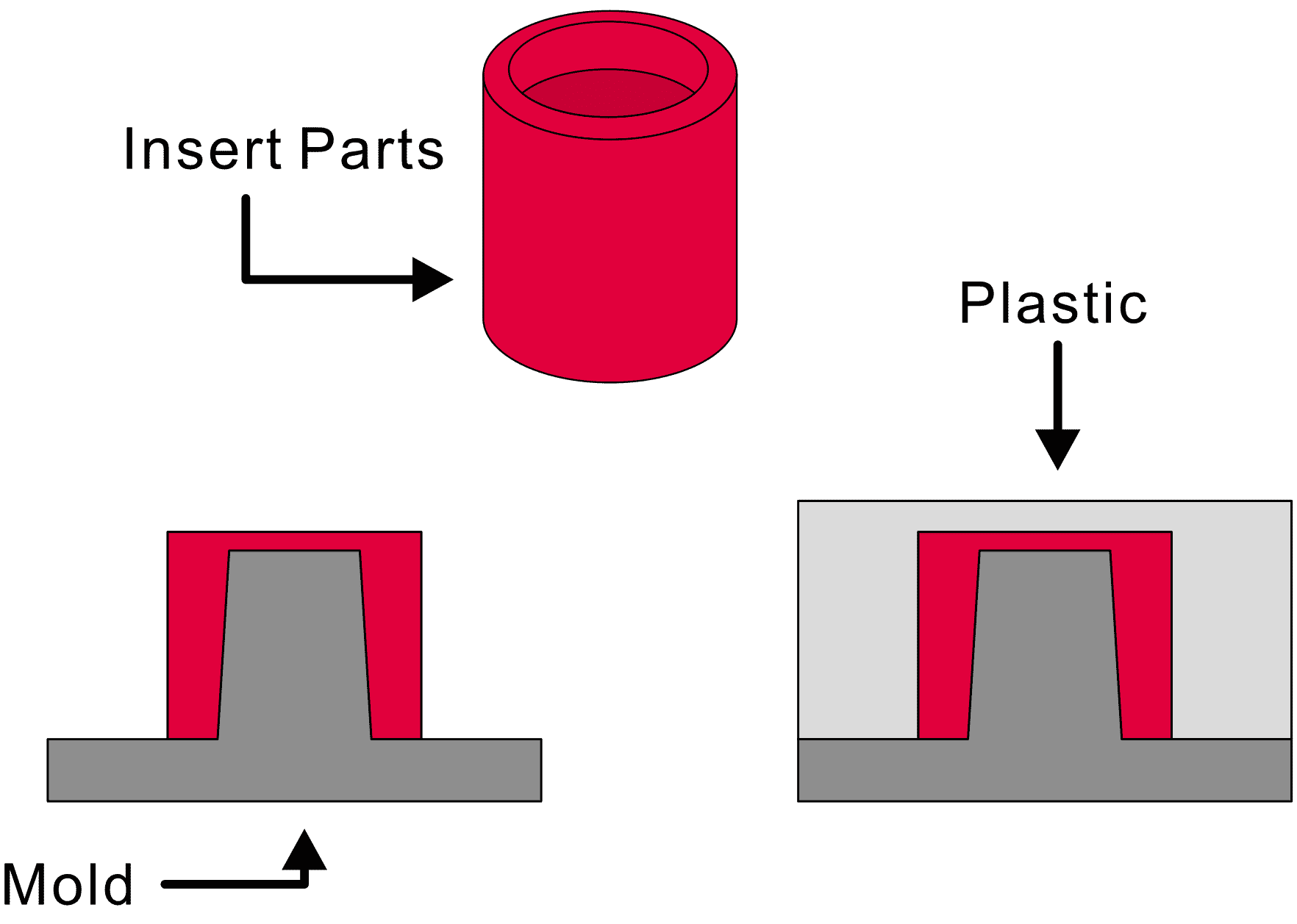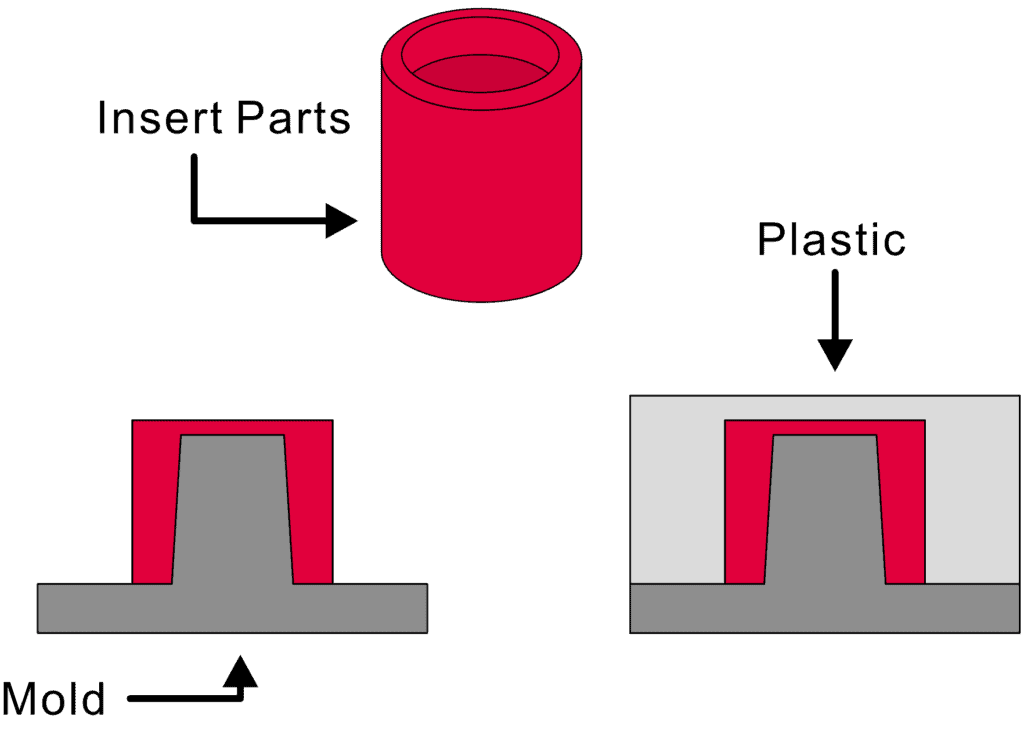 Clamping: It is important that the mold is secured and clamped because the shape and size of the final product will depend on the condition of the mold. Therefore, caution must be observed; otherwise, the final part will be affected.
Injection: The molten material is then injected into the cavity of the mold while the mold is subjected to more heat and pressure for uniformity. Injection must be done quickly to prevent the material from starting to cool while the injected process is still in progress, which can affect structural integrity.
Cooling: Once the injected material fills the model to the desired volume, the cooling process begins. Expect some shrinkage during this process, so most people usually add a few extra shots before the cooldown begins to make up the difference.
Ejection: After sufficient time has passed and cooling is progressing well, the solidified model can now be ejected from the mold using an ejection system. This can be tricky because the finished product tends to stick to the mold after it cools; the ejection system must be strong and clean enough not to damage the mold.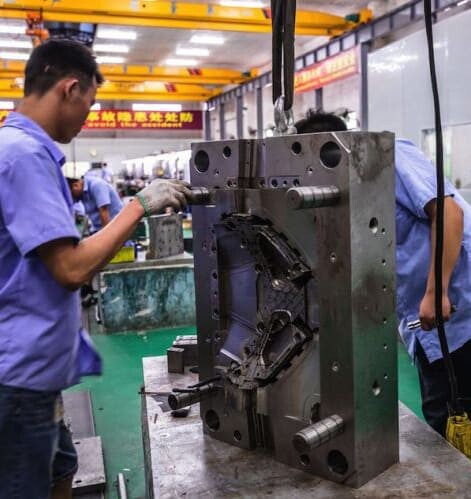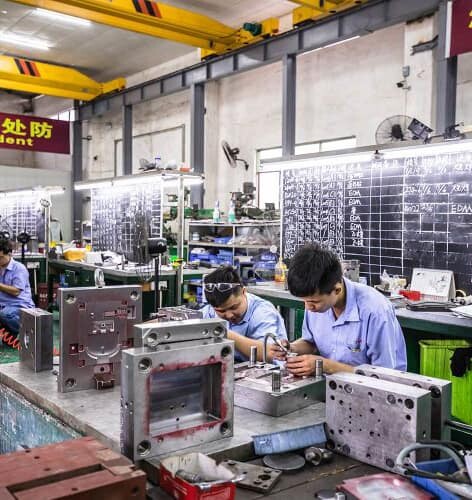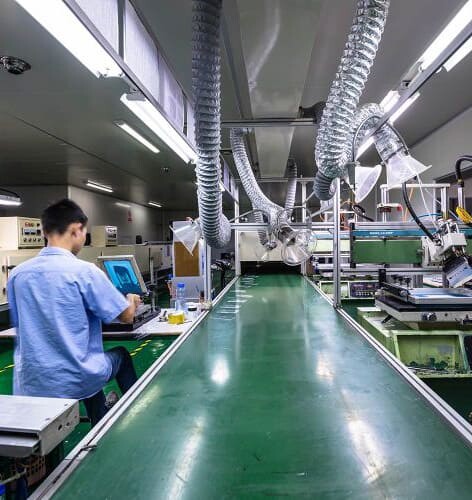 Trusted Insert Molding Services Provider
Why Choose AN-Prototype As Your Insert Molding Partner
Insert molding is just one part of our injection molding expertise. Our turnkey injection molding services exceed customer expectations with the highest quality and integrity. Whether you need injection molding services from design to production, or assistance with a single area of the development cycle, we are here to help.
Design for Manufacturability (DFM)
Adipiscing elit ut elit tellus, luctus nec ullamcorper mattis, pulvinar dapibus leo.
Post-Injection Molding Services
We perform part decoration, kitting, assembly, packaging and other custom operations.
Our commitment to quality extends to tooling design and manufacturing, ensuring you don't need to work with another supplier for this critical step of the production process.
Inspection and Certification
AN-Prototype has passed ISO9001 and ISO13485 certification to ensure that the quality of each batch of parts can meet your requirements and expectations.
Applications of Plastic Insert Molding
Insert molding can be used in automotive, kitchenware, housewares, tools, equipment, knobs, electrical components and other industrial applications. Insert molding not only reduces labor and assembly costs, but is also superior to manually assembled parts in terms of reduced size and weight, component reliability, increased part strength and stiffness, and increased design freedom.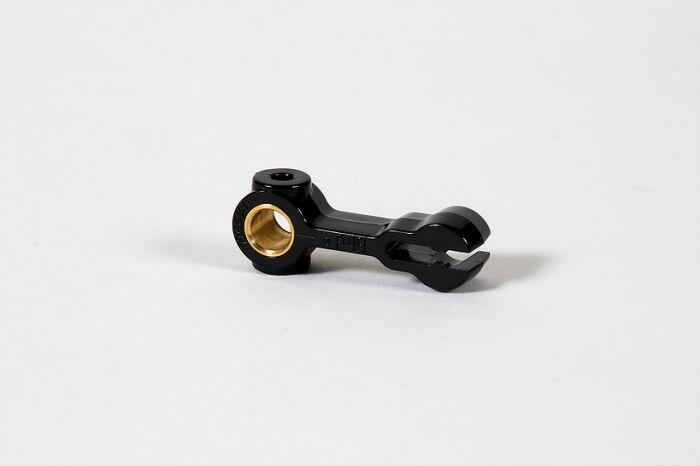 Medical devices must be precise in their measurements and volumes as they are used to measure medicines that are administered to humans. Insert molding is one of the few processes that ensures these medical measurement tools are manufactured as precisely as possible.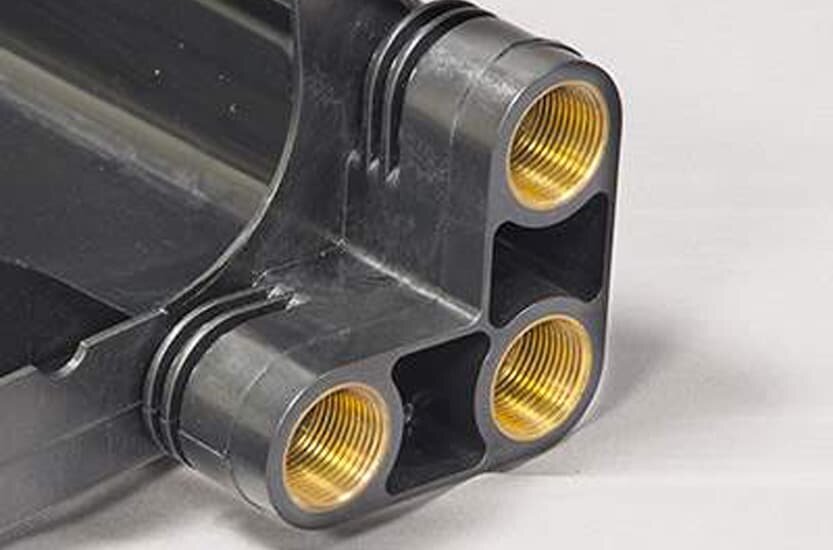 Cars have always used plastic parts because they are durable, lightweight and easy to replace. These parts are designed with high precision through insert molding to ensure that they fit perfectly with other car parts, thus ensuring the safety of the vehicle.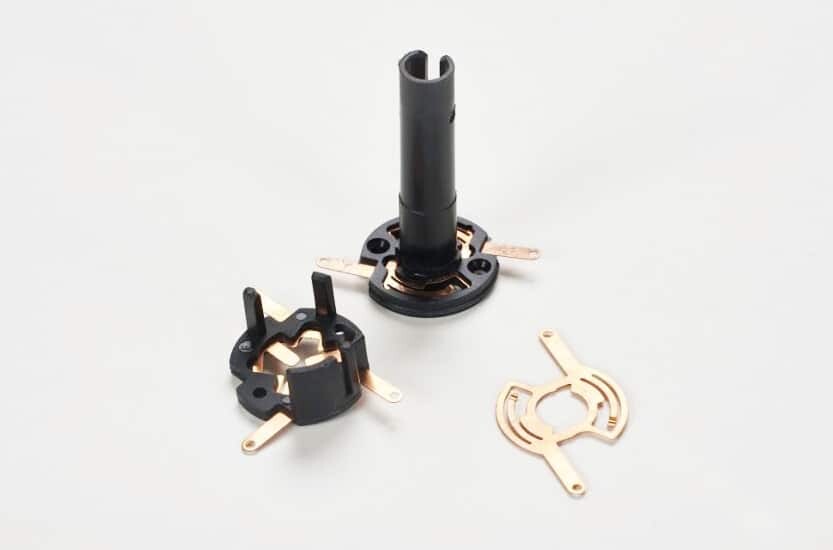 Electronics
Insert molding is used in the manufacturing of most electronic devices. For example, various plastic electronic components with copper wire pins.
AN-Prototype Insert Mold Case Study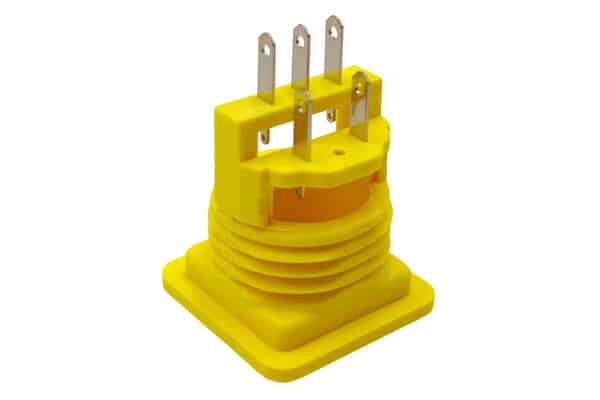 Project Description:Plug
Insert Details:Metal Pins
Insert Numbers: 5pcs
Injection Molding Material: PA66 +25%GF
Tooling Type: Production Injection Mold
T1 samples Lead Time:15 days
Batch Production Quantity: 3000pcs/batch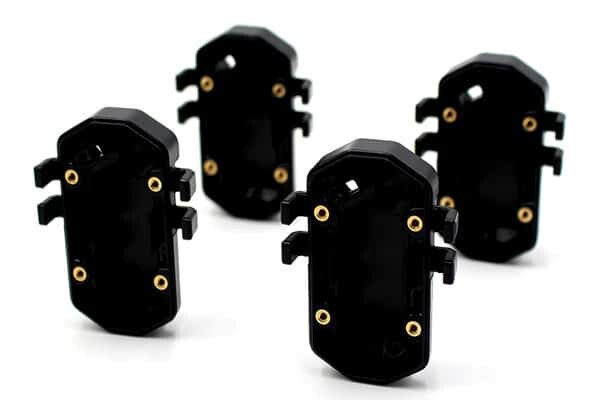 Project Description: Bicycle Lighting Case
Insert Details:  Domestic M4 thread inserts
Insert Numbers: 4 pcs
Injection Molding Material: Abs
Tooling Type: Production Injection Molding
T1 samples Lead Time: 20 days
Batch Production Quantity: 1500 pcs/batch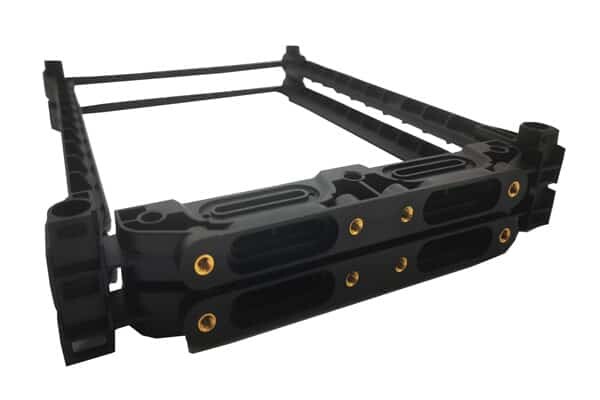 Project Description: Battery Frame
Insert Details: PEM M4 Inserts
Insert Numbers: 4pcs
Injection Molding Material: PA66+30%GF
Tooling Type:  Production Injection Molding
T1 samples Lead Time: 22 days
Batch Production Quantity: 6000 pcs/batch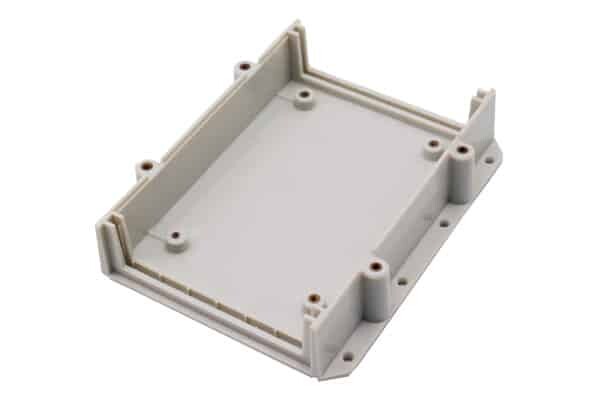 Project Description: Detecting Case
Insert Details: Domestic M3 & M2.5 Inserts
Insert Numbers: 8pcs
Injection Molding Material: PC/ABS
Tooling Type: Prototype Injection Molding
T1 samples Lead Time: 20 days
Batch Production Quantity: 800 pcs/batch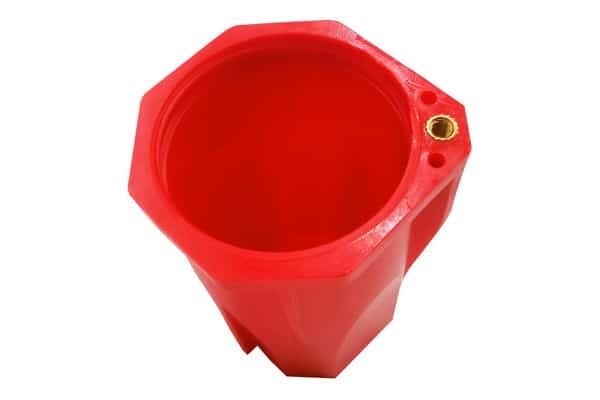 Project Description:  Electronic Cap
Insert Details:  Domestic M3 Insert
Insert Numbers: 1 pc
Injection Molding Material: POM
Tooling Type: Production Injection Molding
T1 samples Lead Time: 22 days
Batch Production Quantity: 2600 pcs/batch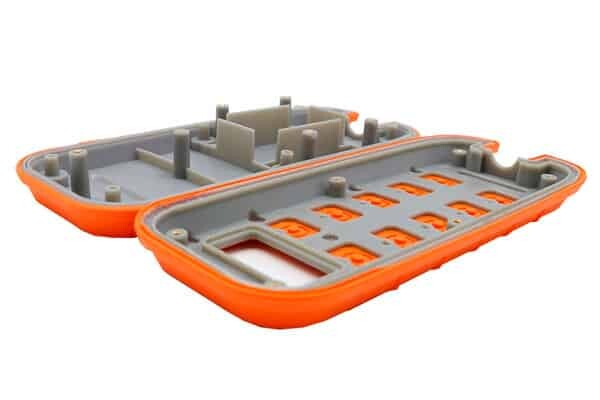 Project Description: Controller Enclosure
Insert Details: Domestic M2.5 Inserts
Insert Numbers:  12 pcs
Injection Molding Material: PA66+20%GF
Tooling Type: Prototype Injection Molding
T1 samples Lead Time: 23 days
Batch Production Quantity: 160 pcs/batch
Insert Molding Materials and Insert Types:
A variety of materials can be used in insert molding operations, and the choice of molding material or plastic resin depends on factors such as the mold, product material and chemical properties, as well as the wall thickness of the product. AN-Prototype is well aware of the properties of various plastics, if you are not sure which material to use, you can consult our professional designers. The main focus is to ensure that the tooling is viable and sustainable during the molding process.
Thermoplastics are considered environmentally friendly as insert molding processing materials because they can be recycled many times. They are chemical resistant and are a good ideal for ensuring differentiation and gloss during molding. The following are the main types of thermoplastic materials commonly found in the market:
Screws, Studs, Contacts, Pins, Bushings, Tubes, Threaded Fasteners, Spring Contacts, and Magnets
Key DFM Recommendations in Insert Molding
1. Reduce the number of threaded blades (within 10 as much as possible)
This is due to injection molding cycle time considerations. Unless it is high-volume molding production, most insert molding involves manual placement of threaded inserts into the injection mold. If there are too many threaded inserts, the injection molding cycle will be very long. Plastic molding material will stay in the barrel for too long. The material can easily overheat, resulting in high rejects in injection molding production. Especially PC and PMMA materials are heat-sensitive materials, which are easy to overheat.
2. Minimize the length of the threaded insert without compromising functionality.
This can greatly reduce costs. The longer the threaded insert, the more expensive the insert will be. In most cases, the functional length should be less than 10mm. Very few are larger than 15mm. Except for some large shells, threaded inserts may sometimes be required to be 20-40mm long to avoid excessive material thickness and shrinkage of the molding surface.
3. Positioning of the threaded insert.
This is for the stability of injection molding production. The best thing to do is to have both sides of the blade in contact with the tool.
Or at least there is one side of the insert contact surface of the tool, and the material flow during injection molding is to protect this contact surface. For the manufacturer, the hole size of the insert should be stable (+/- 0.02mm) so that the threaded insert will hold well on the tool.
"My experience working with AN-Prototype has been nothing but great. Their communication is exceptional, and Michin was always available to answer any questions I had. The finished products we receive are of the highest quality, and meet expectations. What really stands is the great service I always receive from Michin. He's always committed to ensuring we were satisfied. Overall, I would highly recommend AN-Prototype and Michin for anyone looking for a reliable and supplier.."
"Even for a complex 5 axis CNC machined part we got very good results from AN-Prototype. We did a lot of projects with AN-Prototype during the last 2 years and they always did an outstanding job – high quality (I can also recommend their rapid tooling service and anodizing), reliable, extremely fast and perfect communication. I highly appreciate working with Davide and Vivian and already recommended them to many of our partners.."
"Happy with communication that give me confidence to choose AN-Prototype. Project manager understood what I needed and offered solutions to solve my problem. The project manager is very positive for me to help overcome some frustrations I had. Delivered the prototype products as promised. Very grateful for the personalized service, and, I am already a returning customer. "