Insert molding is likely to be a relatively difficult process. That's why with AN-Prototype. Working with such an experienced manufacturing partner is the most reliable solution. AN-Prototype ensures that plastic components meet material, performance and critical tolerance requirements without increasing production time or cost.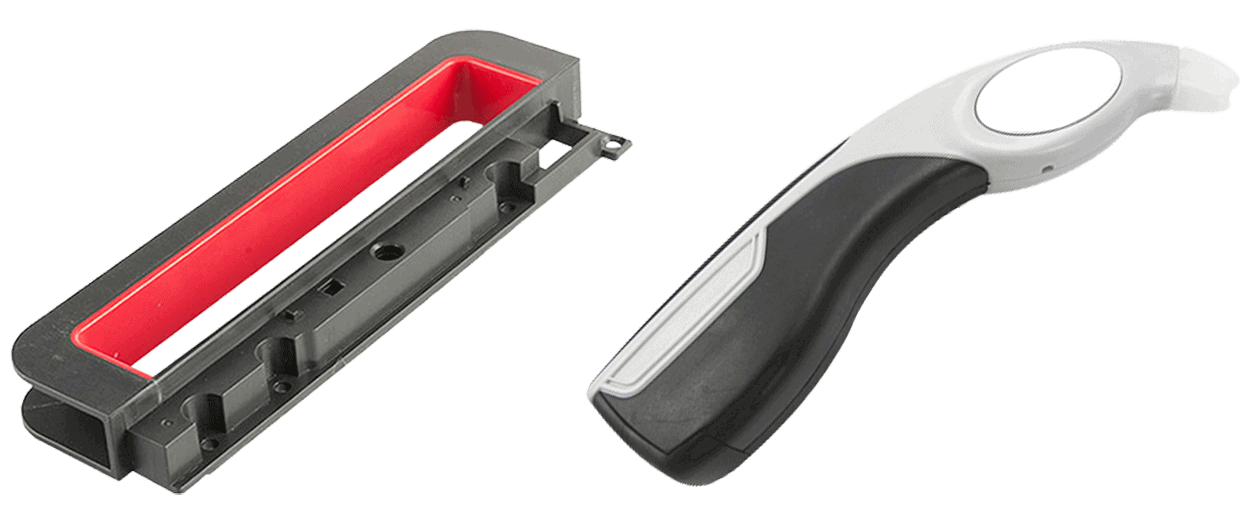 Upload 3D CAD File Get New Injection Molding Quote
STEP | STP | SLDPRT | IGS | X_T | PDF files
YOUR RELIABLE OVERMOLDING MANUFACTURER
AN-Prototype understands that every injection molding project is unique and may require a different injection molding method. That's why AN-Prototype has invested in top-level injection molding equipment and a professional team with comprehensive injection molding technology training. Our team is composed of designers, mold engineers and production engineers, all of whom cooperate with each other tacitly. This ensures that each plastic part and mold design is optimized for overmolding and that the resin material chosen is ideal.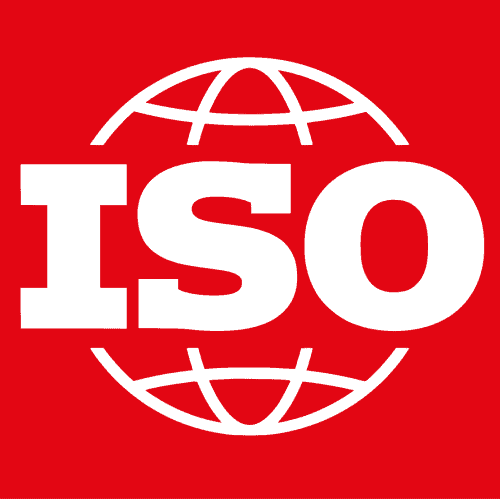 From using the best plastic materials to adopting efficient workflow, precise inspection and timely delivery – we follow strict ISO9001&ISO13485 quality control measures to guarantee only the highest quality parts are produced.

We use a combination of advanced automation procedures and other techniques to ensure that overmolding projects remain cost-effective for you and fit within your budget.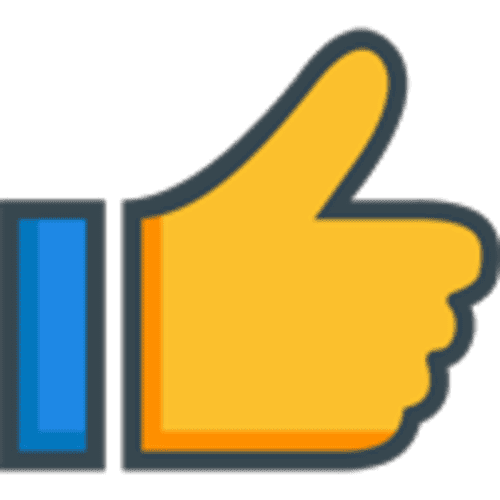 Our efficient and exceptional in-house capacity and capabilities help us ensure your parts are manufactured to the highest industry standards of quality from start to finish.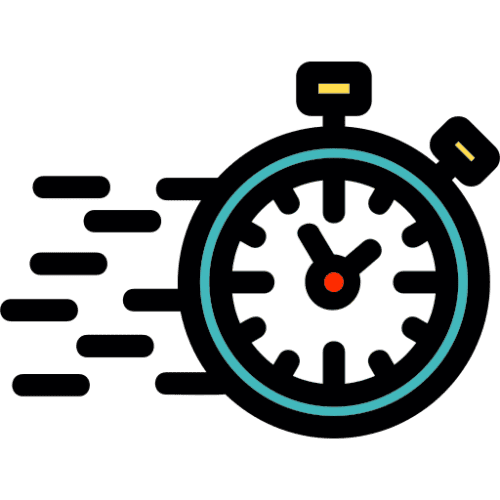 We ensure faster lead times and fast turnaround with our fast service. We reduce lead times to weeks or even days, helping you get to market faster.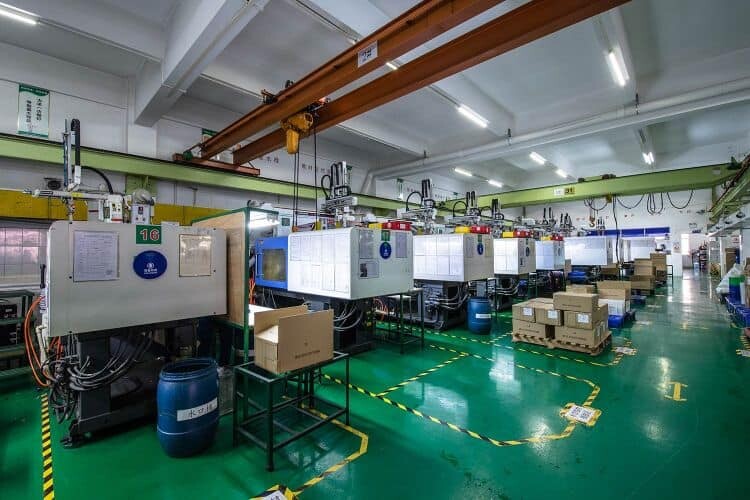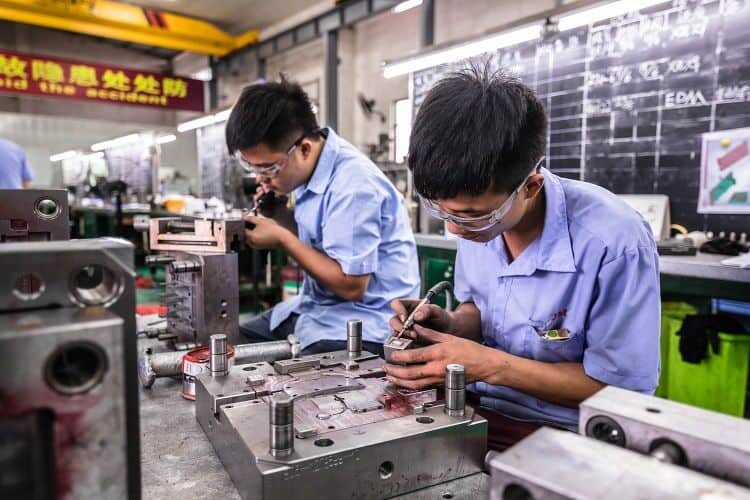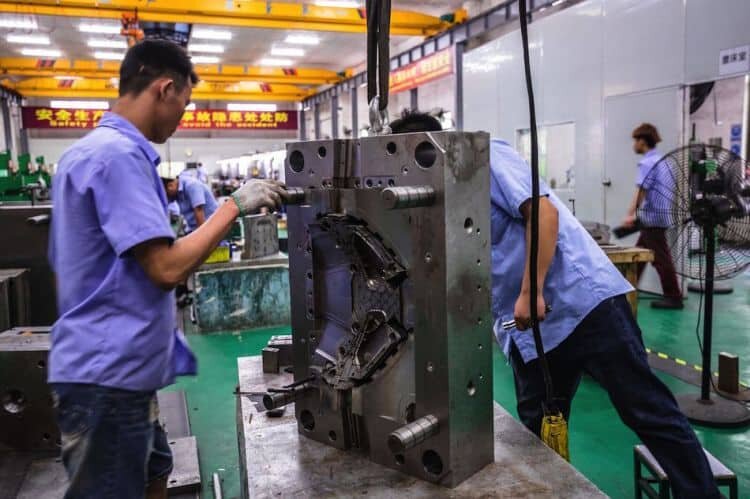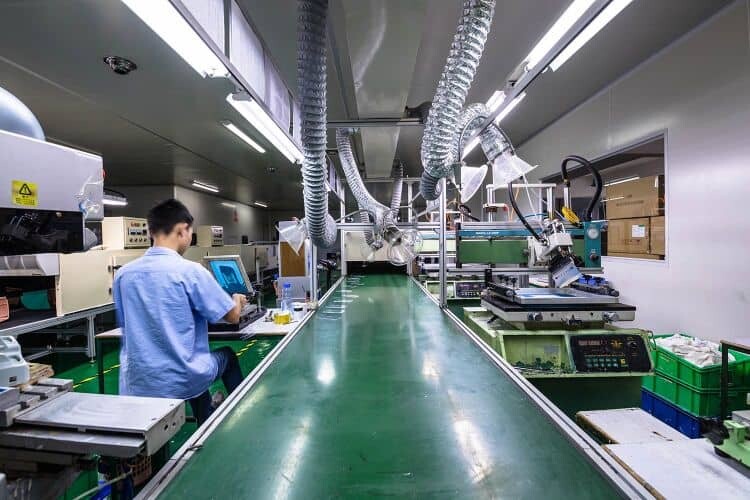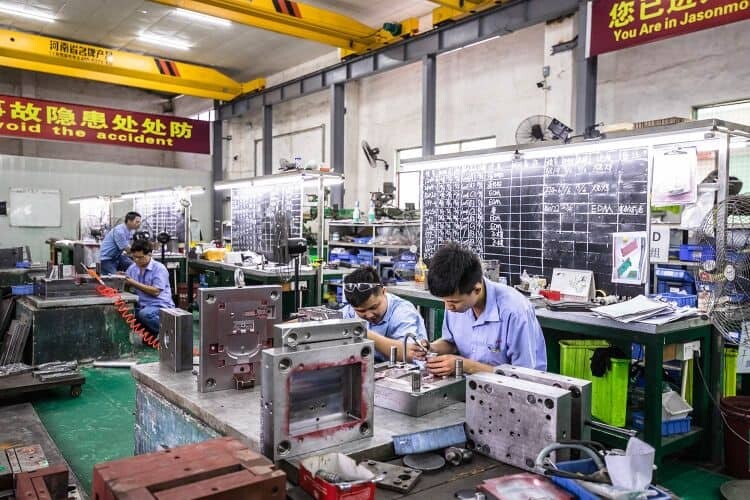 Overmolding is used in a variety of industries. Currently, AN-Prototype provides secondary injection molding services for industries such as home appliances, automobiles, furniture, medicine, and consumer electronics. We also serve local and overseas clients all over the world.
Overmolding is the process of combining two or more materials to create a single part. Typically, a first material (sometimes called a substrate) is partially or completely covered by a subsequent material (the overmolded material) during the manufacturing process. For example, overmolding is used in medical devices to create soft-touch handles for surgical instruments. This technology can improve the function and comfort of the product. Overmolding can also be used to mold multiple colors on a given product for aesthetic or branding purposes. One of the benefits of overmolding is that it eliminates the need for a secondary assembly step, reducing manufacturing costs. Overmolding is a great option if you need to mold two or more materials together.
Overmolding can be used to increase the strength, durability and aesthetics of plastic parts. It can also be used to add new functionality to a part, such as adding a grippy rubber surface or creating a watertight seal.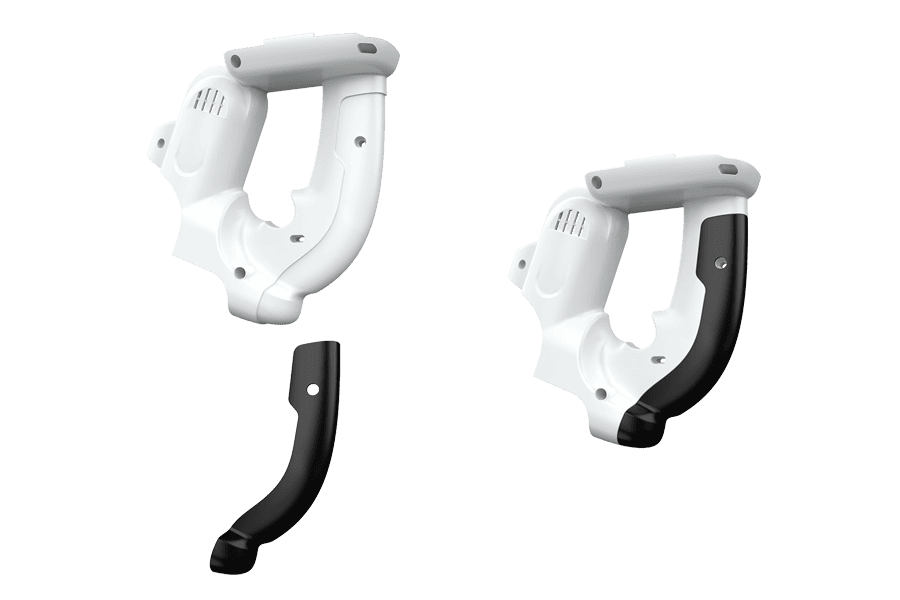 Plastic Over Plastic
A second layer of plastic is added to the core plastic section. This can be used to improve the strength or aesthetics of the part.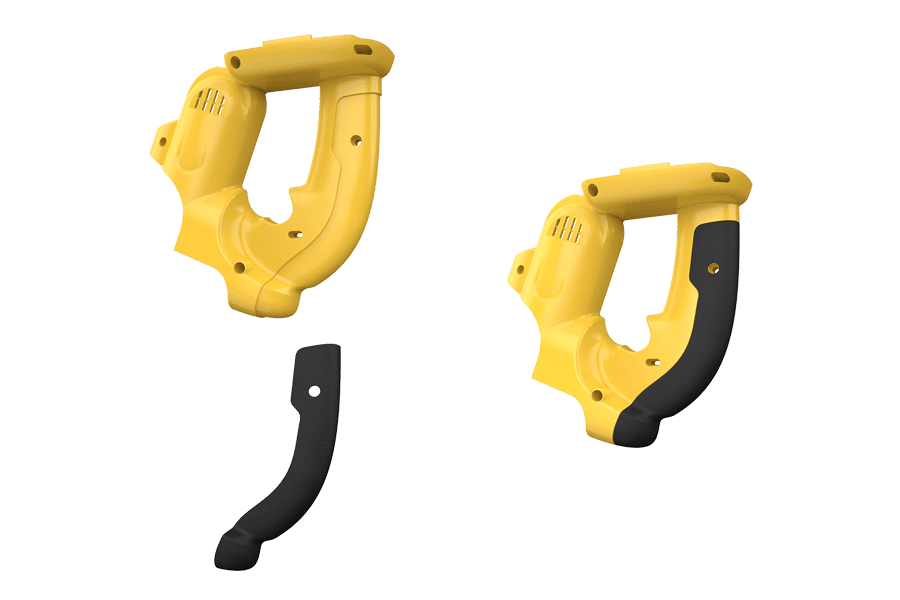 Rubber Over Plastic
Rubber is added to the core and can be used to improve the grip of the part or to create a watertight seal.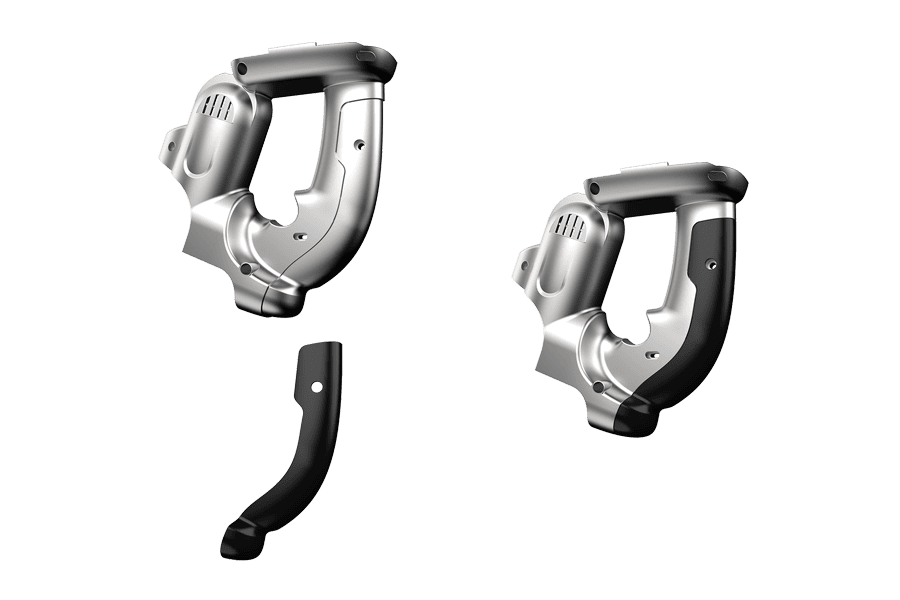 Plastic Over Metal
Add the plastic to the metal core. This can be used to improve the durability or aesthetics of the part.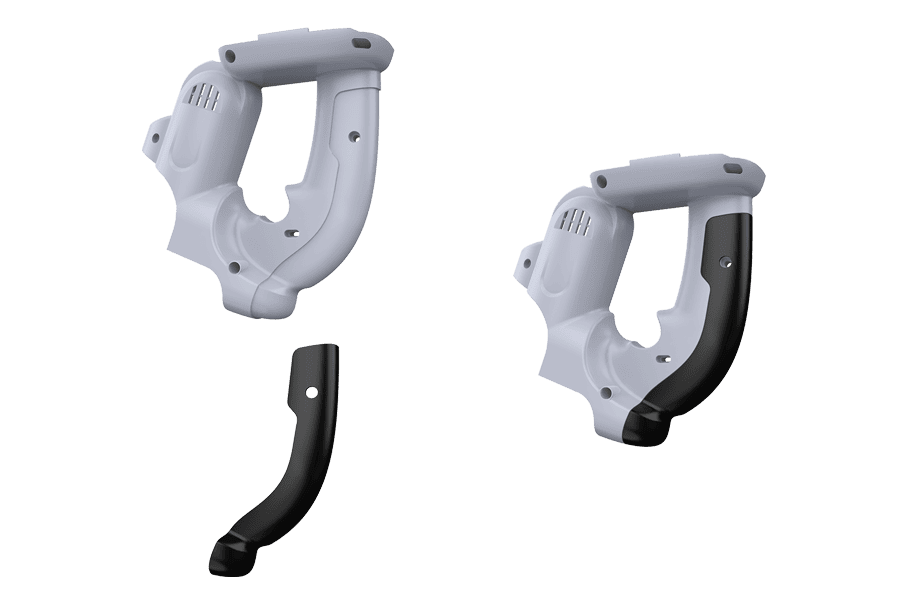 Rubber Over Metal
Rubber is added to the metal core, which can be used to improve the durability or grip of the part.
The first material in overmolding (sometimes called the substrate) is partially or completely covered by a subsequent material (the overmolding material) during the manufacturing process.
The substrate can be virtually anything: CNC machined metal parts, molded plastic parts, or even existing products such as threaded inserts, screws, or electrical connectors. It is the first piece to end up as a single continuous part, consisting of different types of chemically bonded and often mechanically interlocked materials.
What are overmolding materials?
Overmolding material (usually plastic, rubber) mixed with additives such as colorants, blowing agents and other fillers. They are then heated to their melting point and poured into molds in liquid form. Overmolding materials have certain limitations, such as overmolding a plastic part with another plastic (or rubber or TPE), and compatibility issues may arise.
AN-Prototype offers a variety of materials for overmolding projects, depending on the geometry, complexity and requirements of your project. These materials can be divided into three distinct categories, including:
Custom Overmolding Parts Finishes
SPI is a standard developed by the American Plastics Industry Association for the plastics industry to identify the appearance quality of plastic parts. AN-Prototype also uses the SPI standard to define the finish of plastic injection molded parts. SPI's standard specifies 12 finish grades, grouped into four categories ranging from shiny to dull. Each grade has a different requirement for perfect allowable deviation, the lower the number, the smaller the deviation, and the higher the number, the greater the deviation.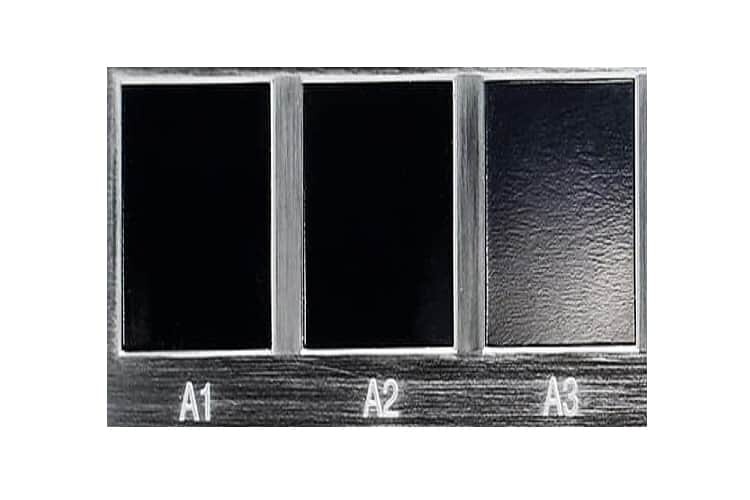 Glossy
If your plastic parts require the smoothest surface possible, SPI grades A1, A2 and A3 are recommended. The manufacture of molds of this grade requires hardened tool steel with diamond-polished surfaces. Mirror gloss provides an almost mirror-like smooth finish.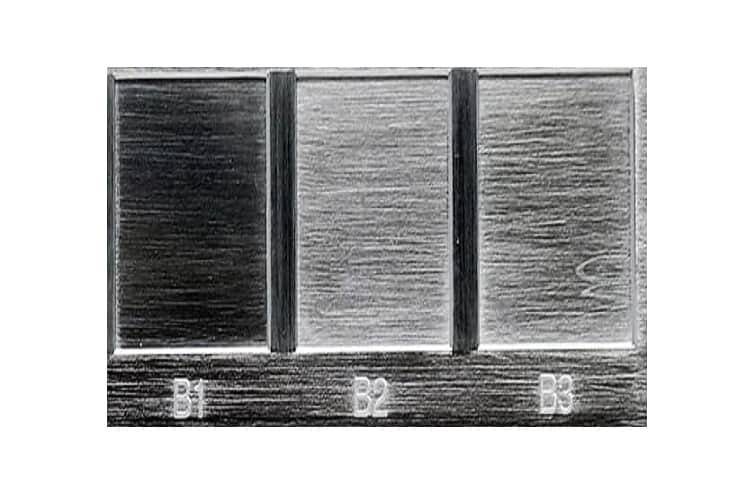 Semi-glossy
If your plastic part requires a semi-gloss finish, AN-Prototype recommends SPI grades B1, B2 and B3. Sanding molds to create parts with a semi-gloss finish is ideal for removing tooling and mold marks.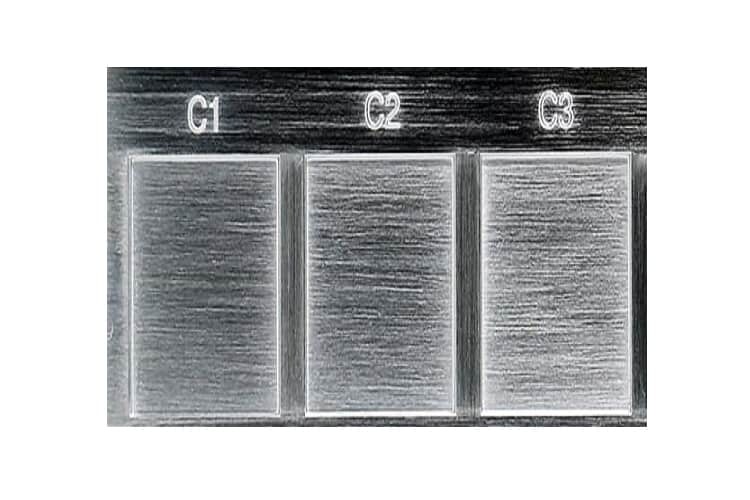 Matte
If you need plastic products that require a matt finish, then we recommend SPI grades C1, C2, C3. Usually sand-polished molds are used for making parts with a matte finish.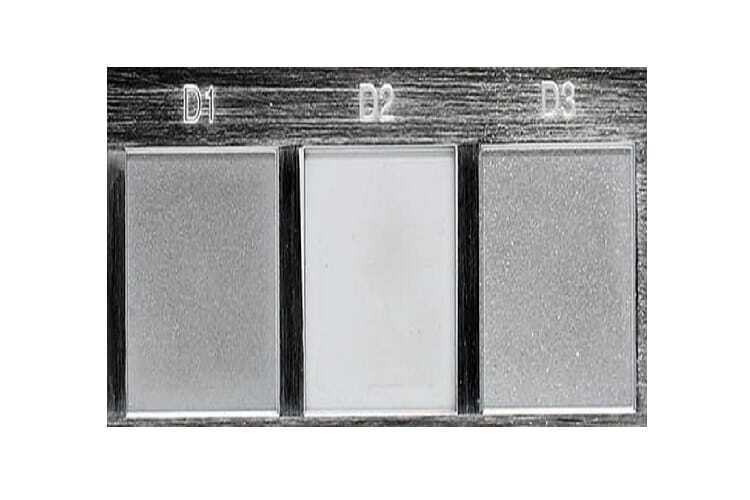 Textured
If the plastic part requires a textured surface, AN-Prototype recommends the use of SPI grades D1, D2 and D3.
Overmolding is used to produce custom parts and assemblies for various industrial applications, used in different ways for home and business. including: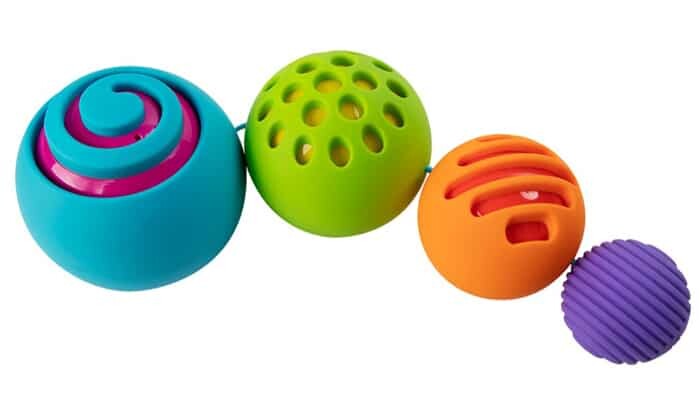 Toy Products
Overmolding creates toy parts by introducing resins of different colors. It also creates seamless designs instead of assembling baby products bit by bit.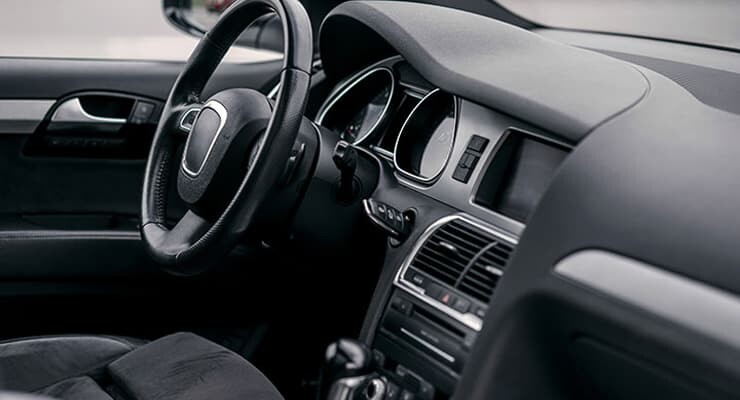 Automobile Industry
The automotive industry often relies on overmolding when a plastic part needs to be made stronger or its texture needs to be changed to improve its grip.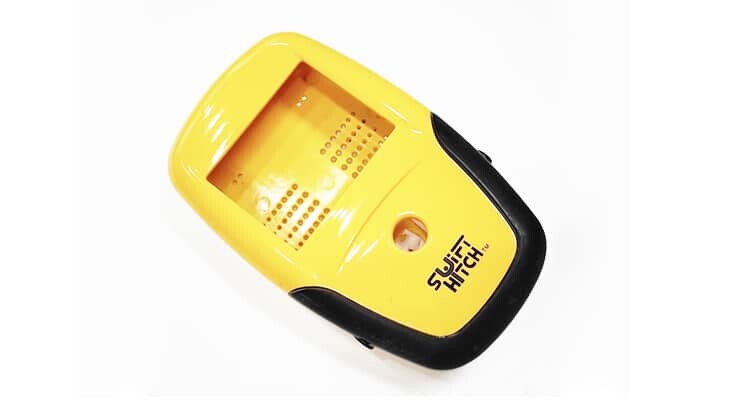 Electronic Equipment
By insulating electronic components with plastic, they can be made safer and more durable for consumers. Both insulation and encapsulation can be achieved by overmolding.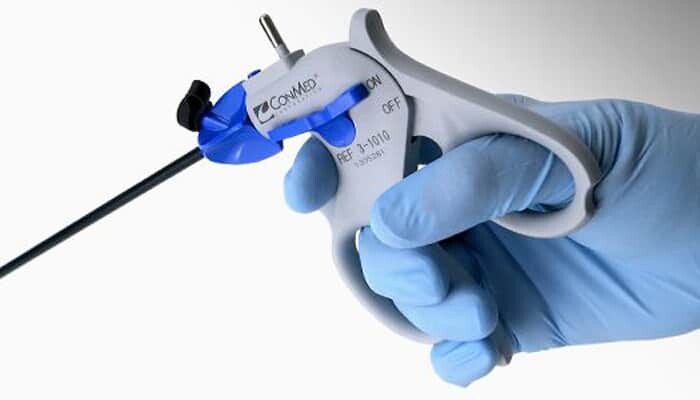 Medical Equipment
Medical devices must be designed to maintain sterility. Durability and operational safety also cannot be overlooked. Medical devices are overmolded with plastic to form a well-encapsulated structure.
"My experience working with AN-Prototype has been nothing but great. Their communication is exceptional, and Michin was always available to answer any questions I had. The finished products we receive are of the highest quality, and meet expectations. What really stands is the great service I always receive from Michin. He's always committed to ensuring we were satisfied. Overall, I would highly recommend AN-Prototype and Michin for anyone looking for a reliable and supplier.."
"Even for a complex 5 axis CNC machined part we got very good results from AN-Prototype. We did a lot of projects with AN-Prototype during the last 2 years and they always did an outstanding job – high quality (I can also recommend their rapid tooling service and anodizing), reliable, extremely fast and perfect communication. I highly appreciate working with Davide and Vivian and already recommended them to many of our partners.."
"Happy with communication that give me confidence to choose AN-Prototype. Project manager understood what I needed and offered solutions to solve my problem. The project manager is very positive for me to help overcome some frustrations I had. Delivered the prototype products as promised. Very grateful for the personalized service, and, I am already a returning customer. "